PFRDA to raise max age for admission under NPS to 70
The regulator also proposed a minimum guaranteed return product under pension scheme
The National Pension System (NPS) is set to admit new subscribers as old as 70, introduce a guaranteed pension scheme, and allow full withdrawals up to ₹5 lakh on maturity, India's pension regulator said.
Around 15,000 people above 60 joined NPS since the entry age limit was raised from 60 to 65 three years ago, Pension Fund Regulatory and Development Authority (PFRDA) chairman Supratim Bandyopadhyay said at a virtual press conference on Thursday.
PFRDA has also proposed to allow subscribers who join after 60 to continue their NPS accounts till 75. For others, the maturity age will remain 70.
Besides, the regulator has proposed a minimum guaranteed pension product under NPS, Bandyopadhyay said. At present, the NPS is a defined contribution system, which means that while the contribution to NPS is fixed, the maturity amount depends on the performance of the pension funds.
The authority plans to invite bids for designing such a product in 15-20 days.
The PFRDA, which recently invited applications to issue fresh licences for pension fund managers, plans to open a second window of around 45 days for new applicants, Bandyopadhyay said.
Based on the experience with this, the regulator would institute an 'on tap' licensing system. This would mean applications can be made and processed all through the year. In the latest round, PFRDA granted a licence to Axis Asset Management Co. and also renewed licenses of existing pension fund managers.
However, two entities, Aditya Birla Sun Life Pension Fund and Kotak Pension Fund, are yet to meet certain regulatory requirements for the licence.
The regulator is also considering an increase in the fees that can be charged by NPS agents, which are called points of presence, Bandyopadhyay said.
PFRDA has also proposed to allow subscribers to 'commute' or fully withdraw their pension corpus if it is below ₹5 lakh, something that is now allowed only up to ₹2 lakh. About 40% of such withdrawals will be taxable, with the remaining 60% being tax free. The taxable amount is added to the subscriber's total income and will attract tax at the slab rate.
The regulator is eyeing an increase in subscribers in NPS by 1 million in the current financial year, up from around 600,000 in FY21. For NPS and Atal Pension Yojana (APY) combined, the PFRDA expects to add around 10 million new subscribers in FY22, up from 8.3 million in FY21.
The PFRDA oversees assets of around ₹5.78 trillion under NPS and APY and has 42.4 million subscribers as of 31 March 2021.
"Life expectancy in India has increased and a good social security system is lacking. There aren't enough savings products for senior citizens. So, the move to hike the maximum age of entry into the NPS is a good one. Similarly, if a guaranteed minimum pension is created, NPS and EPF will become more fungible and employees have more choice on which system to choose," said Narayanan Sadanandan, the managing director and chief executive officer of SBI Pension Fund.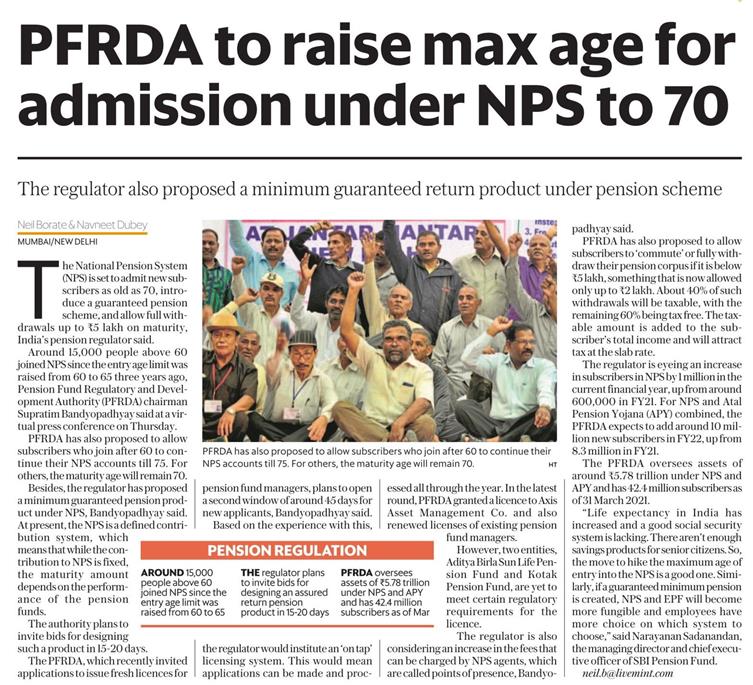 Source : Livemint